I love to try new recipes and take my time in the kitchen. Still, sometimes what wins
over is a lack of motivation or time to plan, shop, chop, and prepare. The goal then
becomes making something:
* In about 15 minutes
* With a decent nutritional value
* Made mostly from items I can keep stocked in my pantry and freezer
Of course, there are also nights when I set the bar much lower and settle on cereal,
cucumbers & hummus, toast & peanut butter, steamed broccoli, cottage cheese &
fruit, or a frozen
Amy's pizza
. Just yesterday I tweeted that "my darling dogs & I
stood in the kitchen & shared a head of steamed cauliflower for dinner, with carrot
sticks for dessert," much to the dismay of a couple friends who said that was sad
even for a veggie or that carrot sticks are not, in fact, dessert. :)
But fast and easy doesn't have to be boring, unsatisfying or unhealthy. I've created a
couple quick concoctions lately that would triumph over a basic bowl of pasta and
sauce any day. They're super simple, fairly healthy, pretty economical, and tasty
(I think). Hopefully they'll help you next time you're in a pinch.
Tortellini with Artichokes, Roasted Red Peppers,
I sauteed up a few fresh ingredients -- yellow onion, shallot, garlic, and zucchini. I also
used fresh thyme, but you could go with dried instead. Then, I added my pantry items --
artichoke hearts, roasted red peppers, and sun dried tomatoes -- all of which I sliced or
bought pre-sliced. I poured the combination of vegetables over a large package of store
bought tortellini (which only takes 7-9 minutes to cook), and dinner was ready.


Rustic Spinach, Tomato and Beans
This one also has Italian flavors but through a different vibe -- less carby and more rustic.
I sauteed chopped red onions and garlic. Then, I popped in two handfuls of frozen corn
(mostly for color) and let the pan heat it through. I added a package of frozen spinach
(thawed and very well drained), one can diced tomatoes (juice included), a can of beans
(drained and rinsed), a couple shakes of red pepper flakes, Italian seasonings, a Table-
spoon or two of tomato paste, and salt & pepper to taste. Once it simmered for a bit, I
add a handful or two of shredded cheese to connect it all. You can pop it in a bowl by
itself (like I did), or elevate it by serving it over polenta or under sliced grilled chicken.
from all over pop in to share their latest kitchen creations. It's a good place to get
dinner ideas or tempt yourself with ideas for baking -- totally worth a visit.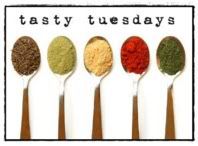 I hope you're well!