I like to think the Barefoot Contessa is guiding me personally when I watch her show. (I'm
kidding ... a little.) Most recently she taught me how to make roasted tomato basil soup.
Basil. Tomato. Soup. Those are just good things. So simple. So fresh.
I thought I'd cook it forward by sharing with you my first attempt at making a long-time
favorite. I put this together early in the morning the last time I donated blood. So, when
I came home, I had a nourishing, comforting, replenishing meal ready to go. 'How fabulous
is that?,' as Ina would say.

Ingredients:
3 lb. plum tomatoes (about 15), cored and cut in half lengthwise
EVOO, salt and pepper
2 yellow onions, diced
6 cloves garlic, diced
2 Tbl unsalted butter
1/4 tsp crushed red pepper (I used 1/2 tsp 'cuz we're adventurous like that.)
1 tsp. fresh thyme
29 oz. can of whole tomatoes with juice
4 c. fresh basil
1 qt. vegetable stock (or chicken)
About two tsp sugar
What to do with them:
Cut tomatoes lengthwise. Season with 1 tablespoon salt, 1 1/2 teaspoon pepper and
1/4 cup or less of EVOO. Toss. Roast in a 400 degree oven for 45 minutes.
Wash and de-stem basil. Set aside. Cut onion and garlic. In a large stockpot, saute the
onion and garlic in 2 tablespoons EVOO, 2 Tablespoons butter and red pepper flakes
for about 10 minutes. Add canned tomatoes, stock, thyme and basil. Add roasted
tomatoes, including the juice on the baking sheet.
Bring to a boil; then lower the temperature and simmer soup, uncovered, for 40 minutes.
Puree. (Ina suggested using a
food mill
, which does a good job of pureeing while still
leaving chunks, she says.) Since I don't have one, I took out a few tomatoes and gave
them a rough chop. Then, I lightly pureed the rest of the batch with my food processor.
I added the chunks in afterwards. Season with 2 tsp sugar, salt and pepper.
and simple in a bowl by itself. I garnished mine with an egg salad sandwich. :)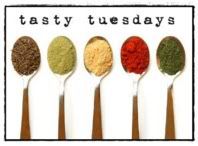 You can see more Tasty Tuesday recipes
here
.